'Tis the Season for Awards!
Friday December 19th 2014
Over at Larian everyone is on cloud nine now that we've won several major awards for Divinity: Original Sin!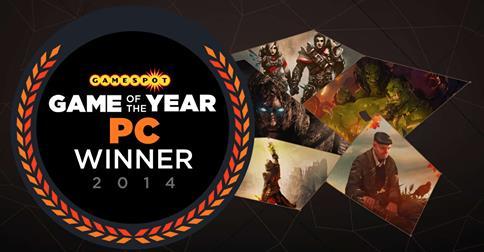 GameSpot: 'In 2014's best PC game, there is no greater role to play than that of yourself.'
First up is the hands down phenomenal PC Game of the Year award bestowed upon us by Gamespot. Needless to say, we're far, far over the moon! And of course we're equally proud of having been named The Bestest Best Kickstarter of 2014 by Rock, Paper, Shotgun, proving once again that Divinity: Original Sin couldn't have been made without our 21.040 backers and the incredible amount of support and feedback we received (and keep receiving) from our community!
We say it every time you start the game and we'll say it once again: YOU ROCK!
Also, our very own David went to Bilbao, Spain to receive the award for Best Role-Playing Game of 2014 at the Fun & Serious Game festival. Just don't ask him where the trophy is…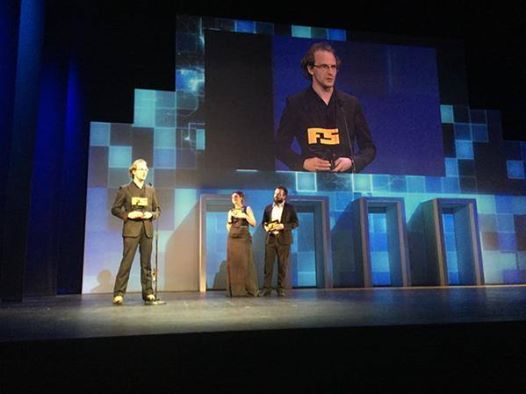 David in a suit. We couldn't believe our eyes either!
David in a suit. We couldn't believe our eyes either! In addition to these, we've been nominated for a lot of other awards, some of which you can still vote for. So if you're convinced Original Sin should receive another award, try casting your vote over at IGN. We're already thrilled to be on their list, but obviously it'd be a complete X-mas miracle should we end up on top 😉
All well and good, but where is my hardcore mode?
Rest assured that these accolades don't make us want to kick back and rest on our laurels: quite on the contrary! We realise all too well that Original Sin is a good, but not a flawless game and a lot of effort has gone into upgrading a multitude of the game's aspects like combat, pacing, UI and main story narration. And yes, work on the hardcore mode still continues and yes, same goes for the Linux version!
It will take us some time to implement all these changes and features, but in the meantime a patch with a whole host of other fixes should be ready for you somewhere in January.
Actually, there's still a ton of stuff to talk about, so for a full overview of what we're planning for Original Sin, future projects and Larian Studios itself, head over to Swen's blog and get the scoop!
Think you can do better? Join us!
Now that Larian is expanding and going global (or at least to Canada and Russia!) we'll be on the lookout for new, talented people that want to join us in creating our own unique blend of RPG goodness. So have a look at our Jobs page and see if you fit any of our descriptions. All are welcome!
Divinity: United States
The little RPG that could, Divinity: Original Sin, began as an idea funded by the fans. From there it proceeded to a critically-acclaimed launch on Steam, and now it rolls into all major US retailers including Wal-Mart, Best Buy, GameStop, and Target just in time for Christmas.
Looking for the perfect gift for that special someone (or for an excuse to ignore your uncle's political opinions at dinner)? Look no further!
HAPPY HOLIDAYS EVERYBODY!
Have a merry Christmas, a fantastic new year and do keep playing! To celebrate Thomas made a special extended edition of the Year in Review video in which he tried to be funny! Enjoy!
Larian Devline, a new patch, boxes and more!
Thursday October 30th 2014
This Tuesday, November 4th, we tried something new by hosting a live Twitch podcast with our devs (and a special guest Jesse Cox) in which you told us what things you liked and didn't like about Divinity: Original Sin. Check out how that happened!
A new patch
We just released a big update for Divinity: Original Sin that includes over a 150 fixes. The full changelist is too big to list here, but you can find all the details on our forums. This update should fix a lot of the smaller lingering bugs and also address a number of balancing issues.
Physical boxes coming to US retail!
That's right! To the surprise of everybody at Larian we'll actually have boxes of Divinity:Original Sin in stores in the US during the X-mas holidays. It turns out that we misjudged the market and that there was quite some demand. We'll let you know the exact release details and which chains are participating once we received all the confirmations.
The App store release is nigh
Originally scheduled for last month, the App store version of Divinity:Original Sin featuring full Game Center integration is currently in review at Apple. If that goes well, it should be available on the App store by next week. For the people out there who like stats, currently 10% of our Steam sales are coming from Mac users, so we're very curious to see what a release on the App store will do.
Further Development
Development is continuing with things like the Linux version and the hardcore mode still on our lists, but as we want to do this thoroughly, it will still take some time before we're ready. The Linux version especially suffered an extra delay as a result of our porting team having to fix a number of compatibility issues that popped up with the release of Yosemite. Whereas we initially hoped to get the Linux version done this year, it looks like it'll be the beginning of next year now.  We know that'll disappoint a few among you but bear in mind that we're doing a real port just like we did with the Mac version.
Want to work at Larian Studios?
Be sure to subscribe to our twitter account or like us on facebook. We're working on new cool stuff and will be looking for people. The good news is – you won't necessarily have to live/come live in Belgium to join our team so stay tuned. 
The wait is over: Two new companions have landed in Cyseal!
Monday September 15th 2014
We may have been a bit quiet over the past two months, but you'll be happy to hear we've spent the time not only recovering from launch, but also preparing improvements and new content for Divinity: Original Sin. We figured: how better to break the silence than with an exciting update chock full of much-asked-after features? Today, we're launching a content-heavy update to D:OS players, featuring two totally new companions, each ready (if you play your cards right) to help save Rivellon. Also included in the newest update is a big quality-of-life improvement and another coat of polish.
Below, Swen discusses more about the added content, as well as future updates and what the team's been up to since our last update (hint: Divinity: Original Sin isn't the only game we're working on!).
Read the update's full change list here.
Download this free additional content!
As promised, we're ready to launch two more companions into Rivellon, both of which you can meet in Cyseal. Bairdotr, a curious and loyal ranger, has gotten herself into some trouble at the Legion barracks, while the silent rogue Wolgraff has found himself a nice hustle stealing coins from the wishing well in the Cyseal hinterlands (accessible through the graveyard tunnel).
Check out their concept art and a short description of each companion below: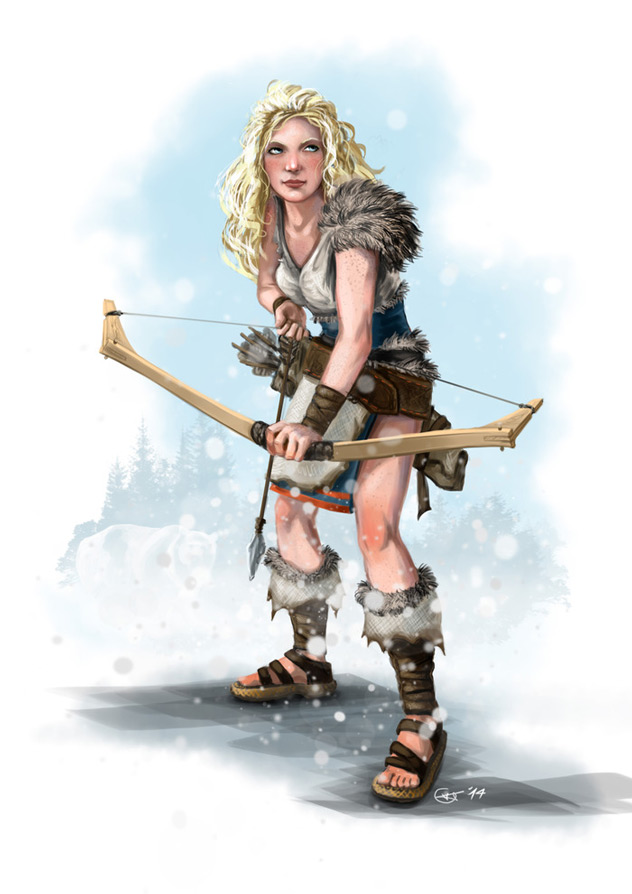 "You seem strong as mother, though your chest is not quite so hairy. Your sword may come in handy when we find who I seek."
Armed with her bow on her back and her claws at the ready, Bairdotr refuses to fail: She must navigate your world–a world of wonder and mysteries both fantastic and terrible–if she's to save Homeforest. The druid of the forest has been kidnapped, and Bairdotr must follow a scant trail of clues if she's to bring him back– clues that take her to the very heart of Rivellon's Source conspiracy.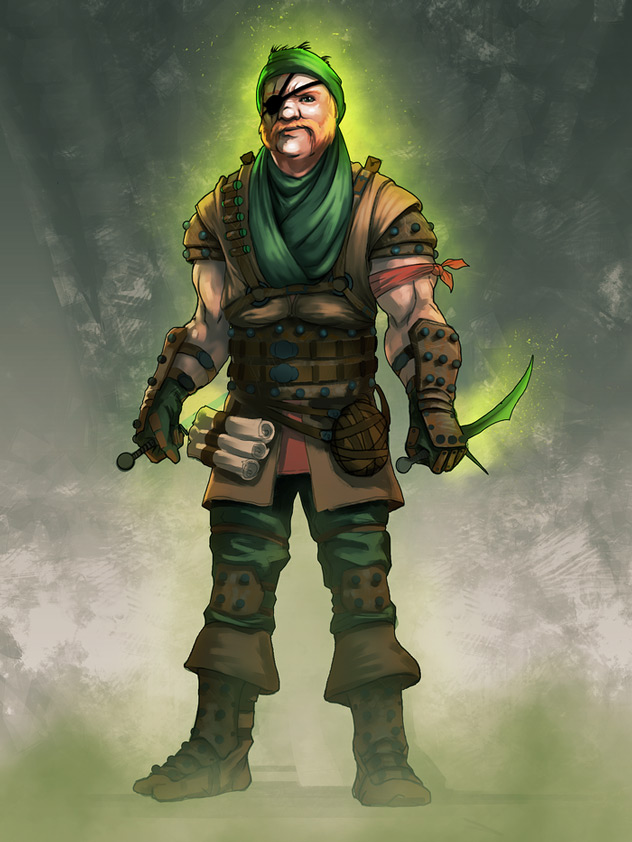 "Wolgraff gives you a knowing look. He seems to think the mayor is a few arrows short of a quiver."
Dark Sourcery deprived Wolgraff of his voice when he was but a kid, and with it his dream of becoming a Source Hunter. Refused by the Order, he grew up to become a rogue, stealing from the rich and giving to… just himself actually. His is a world of silence, but if need be he lets his dagger do the talking for him.
If you convince one or both to join your party, you'll learn more about their histories and missions for the future.
Download "The Bear and the Burgler" DLC via Steam, or simply update your game on GOG to receive the new content. Note: The new companions will appear in Cyseal once you start a new game after downloading the update.
Follow the Dialogue: A significant improvement for co-op players
It's no secret that the old system for following other players' dialogues in co-op needed a makeover; fortunately, the latest update will do just that.
Now, instead of reading lengthy dialogues displayed over your teammate's head or in the journal, you'll be able to see the conversation in its own dialogue box with the toggle of a button.
What's next?
This certainly will not be our last update on Divinity: Original Sin. We're still working on a slew of new skills and a variety of difficulty modes to ramp up the challenge– keep an eye out for those in the coming weeks!
If you're curious where Larian is heading over the next couple of years, check out Swen's latest blog entry – Thoughts after releasing Divinity:Original Sin and what comes next.
Divinity: Original Sin is out!
Monday July 1st 2014
Today is an extremely exciting day here at Larian. After years of developing a game we truly love, we get to release the full version ofDivinity: Original Sin to both our amazing backers and to the rest of the gaming world.
It is at once thrilling and nerve-wracking; this vast world will now, for the first time, be explored in its entirety by the public. We can only hope you all have as much fun growing your Source Hunters and solving Rivellon's mysteries as we had developing them.
Without your support via Kickstarter and Early Access, this game would never have reached the level of polish and complexity present in its current form. Your contributions added a world of colour, secrets, enhancements, and depth to the game that has made this what we consider our best game to date.
Below, Swen explains just how grateful we are for your support:
Get the game from:
A small delay for a good reason: Let there be voice!
Friday 6 June 2014
If we were very busy last week, we were even busier this week and we have nightmares about how busy we are going to be in the next weeks, so please forgive us if this particular Kickstarter update is rather short and please forgive us for the late post.
It does contain plenty of news though!
Massive Divinity: Original Sin Collector's Edition Announced: Includes Four Games and More; Mac Version Also Announced
Friday 16 May 2014
As Divinity: Original Sin nears its June 20th release date, the team at Larian Studios unveils a limited-supply Collector's Edition, featuring four Divinity titles and more.
Additionally, a massive new update to the game's beta on Steam Early Access unlocks a fully-functioning version for Mac.
PC and Mac players can now also play together on-the-go with the newly-implemented "Laptop Optimized" mode.
For more details about this massive update, head over HERE.
Divinity Original Sin moves into Beta!
Thursday 3 April 2014
We just unleashed a massive update for Divinity: Original Sin on Steam Early Access taking the game into beta while adding loads of new talents and skills, brand new areas, and a whole load of other improvements.
If you're not hyped about the game yet, try watching our brand-new trailer which is certain to tickly the RPG beast within you:
The beta contains over 400 improvements and a host of new features. You can discover the full changelist here.
Divinity: Original Sin – Spring is Coming
Friday February 24th 2014
Catch a sneak preview of what's to come this Spring for Divinity: Original Sin in our newest teaser trailer. The world is growing ever more vast and more interactive, and here you'll find a first look at some of Rivellon's previously unseen fairytale landscapes and creatures. If you pay close attention, you'll find that it's not only your elemental powers, but also tempestuous weather that can shift the winds in combat.
Divinity: Original Sin Steam Early Access is here!
Friday Januari 17th 2014
It has finally happened, Divinity: Original Sin is on Steam Early Access. Get it now! But wait – before you do – a word of warning.
Early Access gives you the chance to support the development of Divinity: Original Sin. You'll receive immediate access to the first 15 hours of the game (and the full game when it's released). But please be aware that the game is still rough around the edges and that certain features are missing. New features and all sorts of improvements will be added via regular updates. We DO NOT recommend you playing the Early Access if you want a really polished experience. The Early Access game is available at two pricing tiers:
Standard Edition: 39.99 EUR/USD – Gets you the Early Access game and the final game (this is the same price as the final version)
Co-op Edition: 59.99 EUR/USD – Includes two (2) copies of Divinity: Original Sin for cooperative play, and a double pack of Divine Divinity andBeyond Divinity.
Go on to the Steam page and see it for yourself. It's real. It's there.